The most sustainable coffee pods, ever.
Get started with 30 home-compostable pods for £5 (£13.50), with a refillable pink Grind tin and free shipping.

Certified Home-compostable
The first in the UK to be certified home-compostable - our new and improved pods now break down faster.
Carbon Positive
Our coffee is ethically sourced from sustainable farms around the world and we deliver every order carbon-positive.
Nespresso® Compatible.
Compatible with your original style Nespresso® machine.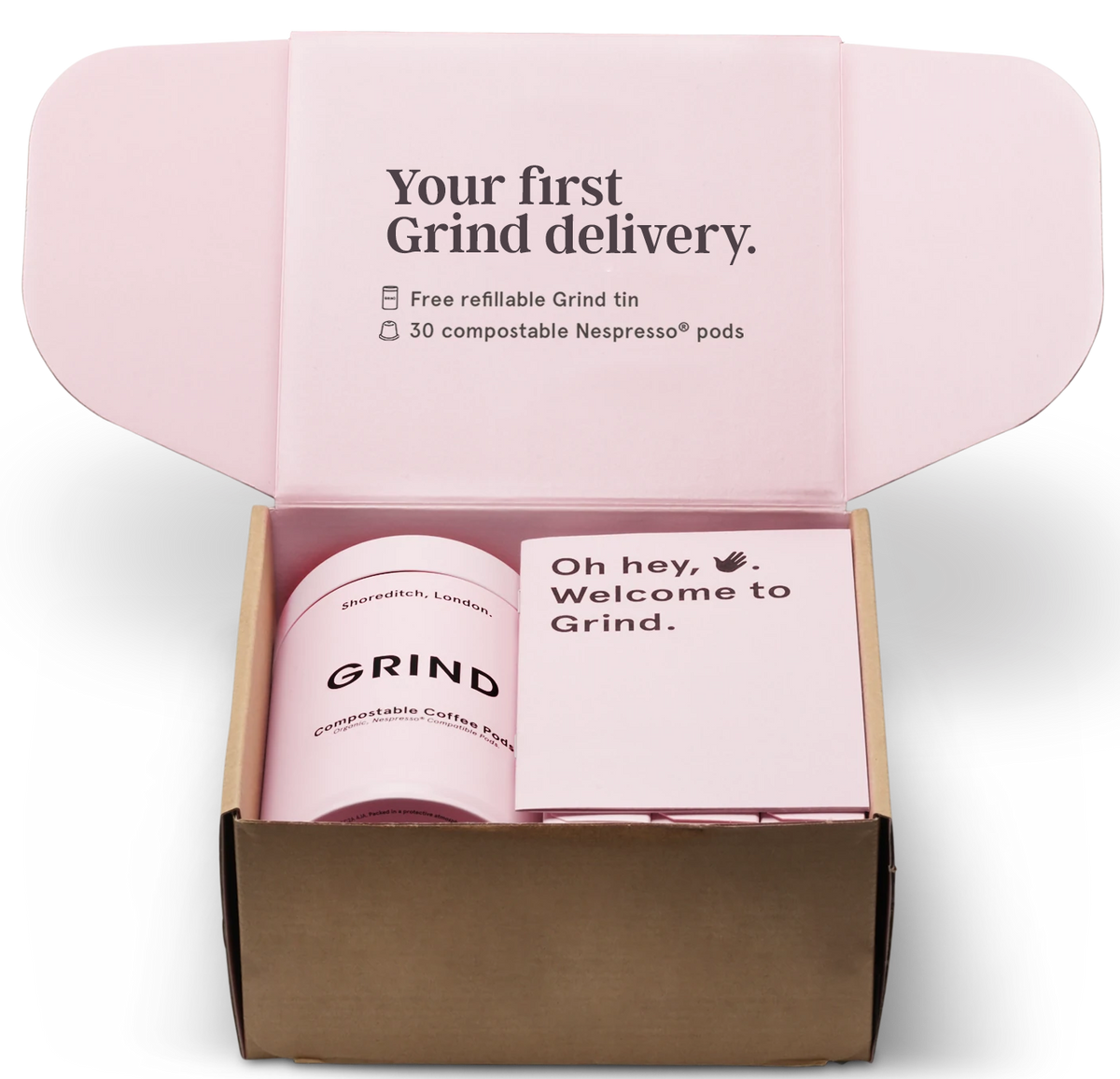 We've recovered
0
pods' worth of ocean-bound plastic so far today.
Learn more
The next generation of coffee pods.

Home-compostable
The most sustainable coffee pod on the planet - certified home-compostable & free of plastic.

Better Taste
We've made some big improvements in our blends, for an espresso that's richer and fuller-bodied.

New Blends
Including our Grind Editions, highlighting some of our favourite single-origin coffees from around the world.
Shop Now
Reasons to buy Grind?
We could name a few.
Grind pods
Better for the planet

Home-compostable pods, free from plastic

Speciality-grade coffee

Ethically sourced, speciality-grade coffee

An independent British business

Based in Shoreditch, London

Carbon-positive shipping

Shipped free when you subscribe

30 pods for £13.50 per month

With your first box for £9.95
Get started
Nespresso®'s Pods
Plastic and aluminium pods

With 29,000 pods going to landfill every minute

Lower quality coffee

Non-speciality grade coffee

Owned by Nestlé

A Swiss conglomerate

Free delivery with 100 pods

£4.95 standard delivery

30 pods for £20 per month For a 30 pod Vertuo® subscription that is not compatible with your original style Nespresso® machine
Get started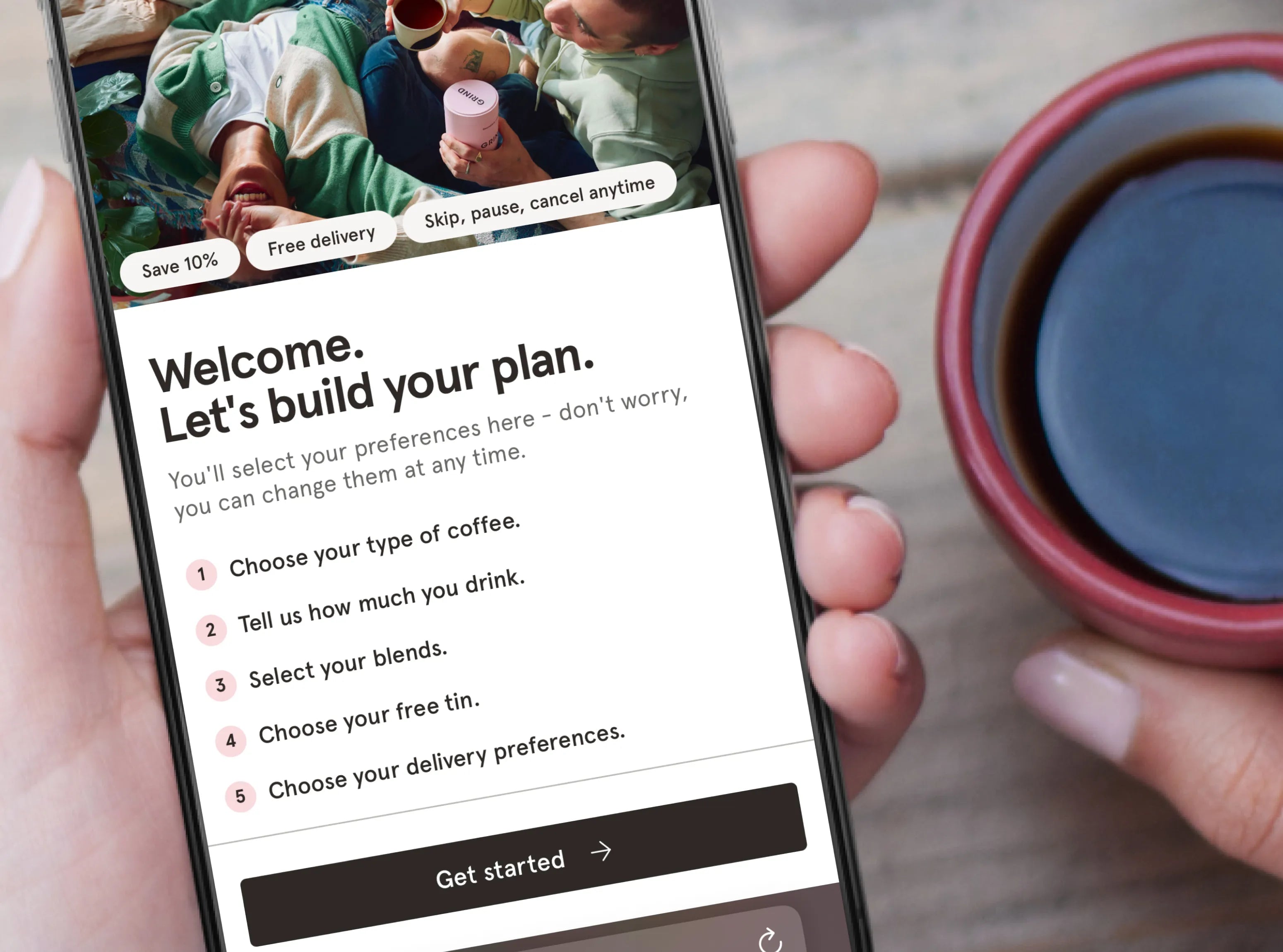 Choose your coffee
Pick from our Grind coffee blends, in Nespresso® compatible pods, whole bean or ground coffee.
Tell us how much & how often
Receive coffee as and when you need it - you can edit, pause or cancel your refills at any time.
Great coffee at home
Get a free Grind tin with your first order and free carbon positive shipping with every delivery.
The most revolutionary technology in the coffee pod world.
Plastic and aluminum coffee pods take hundreds of years to break down. Grind coffee pods are made from PHA, which uses only organic matter, meaning they don't stick around: they're completely biodegradable.
Carbon positive
Our coffee is ethically sourced from sustainable farms around the world and we deliver every order carbon-positive.
10 Years of Experience
We've taken everything we learned from a decade of making coffee in our London cafés and squeezed it all into creating our range of seven amazing tasting coffee blends.
Carbon Positive Shipping
We've offset the carbon emissions of 100,000 orders and counting - protecting over 40,000 trees in the Jari Pará conservation project in the Amazon.
Rated Excellent on Trustpilot
Our customers have rated our coffee, and our customer service, as Excellent on Trustpilot.