The most sustainable coffee pod on the planet.
Grind coffee pods are completely home-compostable and plastic-free. By choosing Grind, you're doing good by the planet.
Why our pods are the best.
Every single pod is completely biodegradable. To put it simply, our pods observe the characteristics of plastics, whilst being 100% plastic free.
Aluminium is the past, our pods are the future.
Less than 30% of aluminium pods are recycled, and all new pods contain 20% non-recycled aluminium. Behind this lies an ugly truth of a supply chain which uses massive amounts of energy, water resources and chemicals to produce this new aluminium, in what is a highly destructive process. At a resource cost of four tons of bauxite to one ton of aluminium, it's time to move on from causing this damage to our planet.




Home-compostable pods that leave no trace.
Plastic and aluminum pods take hundreds of years to break down. In your home compost, ours will break down quicker than grass cuttings, or can be placed in your food waste bin.
If worst comes to the worst and Grind's pods do make their way into landfill or even the ocean, our pods will still break down in these ambient environments.
Fully recyclable & home-compostable packaging.
We contribute to carbon-offset projects in excess of the carbon emissions of all of our deliveries.This means we're not just breaking even, but rather offsetting more carbon dioxide than is produced.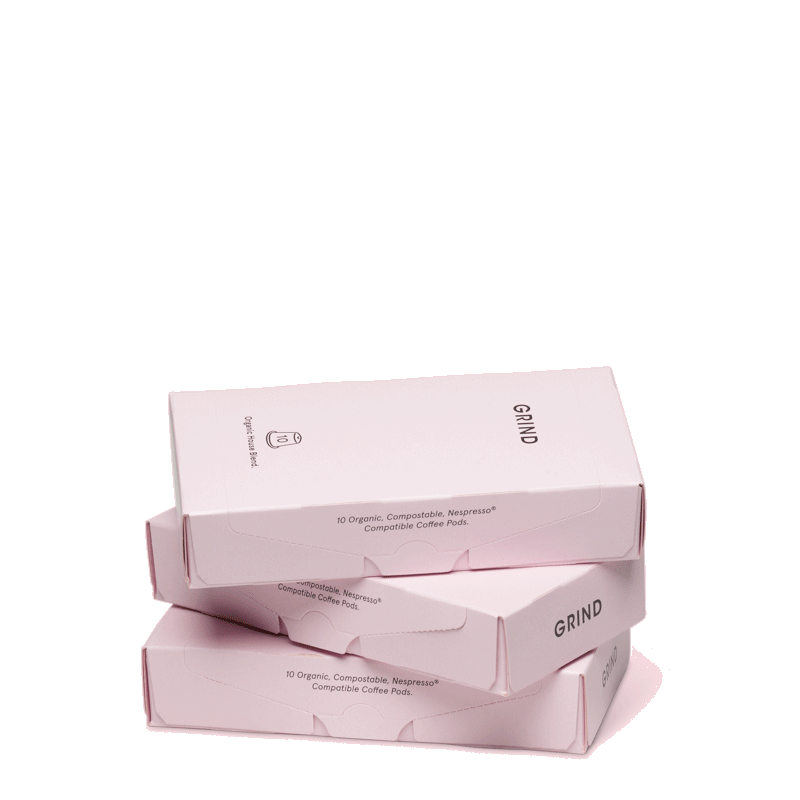 Get started for £9.95.
We took everything we learned from a decade of making coffee in our London cafés and squeezed it all into our home-compostable Nespresso® compatible pods. Try it now & get a free Grind tin with your first order.
We've recovered
0
pods' worth of ocean-bound plastic so far today.
Learn more