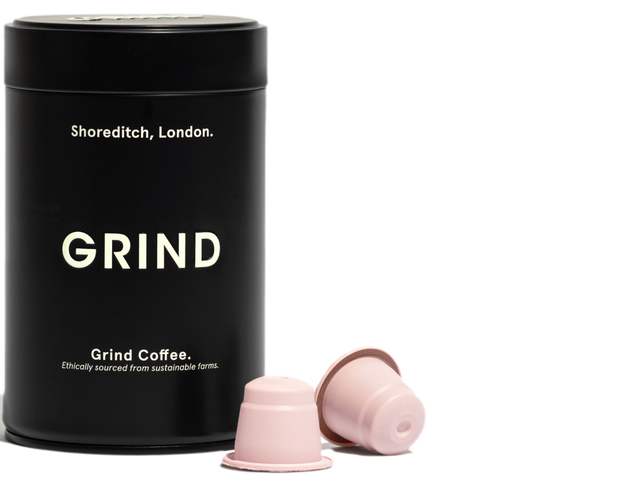 Nespresso®compatible
This is better coffee.
This is better coffee.
Get started with 30 home-compostable coffee pods for £9.95 (£13.50), plus get a free limited-edition black tin.
Try for £9.95
The coffee is every bit as strong as one you'd grab on your morning commute
- GQ
With a choice of nine blends, from decaf to a dark roast, you can mix and match and keep them all in one of Grind's cheery pink metal tins.
- EVENING STANDARD
The team at Grind have revolutionised the coffee games with their stylish and sustainable brand.
- GLAMOUR
Our Nespresso® compatible pods make any machine more sustainable.
Home-compostable pods
Our pods are specially-made to biodegrade in 26 weeks.
Free refillable tin
Made from recycled aluminium, for you to keep refilling.
Ocean cleanup project
We're dedicated to removing plastic from the ocean.
x30 compostable coffee pods (and a free tin with your first order)
$9.95
Get started
So, how does the subscription work?
We've set up 4 easy questions to help us work out how much coffee you'll be needing.
Tell us how you like it, when you like it, which blends you'd like and we'll throw in a refillable Grind tin for free.
Once your order is complete, you'll be able to amend it however and whenever you want. Easy.
Get started
Reasons to buy Grind?
We could name a few.
Grind pods
Better for the planet

Home-compostable pods, free from plastic

Speciality-grade coffee

Ethically sourced, speciality-grade coffee

An independent British business

Based in Shoreditch, London

Carbon-positive shipping

Shipped free when you subscribe

30 pods for £13.50 per month

With your first box for £9.95
Get started
Nespresso®'s Pods
Plastic and aluminium pods

With 29,000 pods going to landfill every minute

Lower quality coffee

Non-speciality grade coffee

Owned by Nestlé

A Swiss conglomerate

Free delivery with 100 pods

£4.95 standard delivery

30 pods for £20 per month For a 30 pod Vertuo® subscription that is not compatible with your original style Nespresso® machine
Get started

Still not quite sure? Here's some FAQs.
And if there's aren't enough, we've got a whole dedicated FAQs section waiting for you here.
The UK's first certified home-compostable coffee pods that will decompose quicker than garden grass cuttings. Find out how to compost at home here
Made from PHA, every single pod is biodegradable.
Our pods don't allow oxygen through like other plant-based pods. Instead, an oxygen barrier keeps your coffee fresh for months - without losing its flavour or quality.
We've been serving flat whites across London since before you could instagram them.
Our coffee Beans are still roasted in our Roastery in London.